Get Inspired...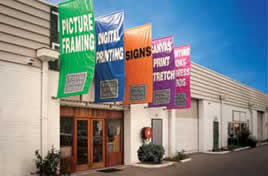 At The Big Picture Factory we use state-of-the-art digital and wide format printing techniques to produce a huge range of promotional material including signage, banners, books, brochures, letterheads, business cards, flyers and much, much more.
We also specialise in picture framing, including printing your photos to canvas, and also photography.
We want to inspire you to be creative and encourage you to take a new look at getting people to notice your business or project.
Latest News...
We have a new printer with the latest in digital technology
using clear dry ink!
Direct the eye, heighten contrast and give your pieces
a more high-end, polished look.
Spot treatments - add a varnish effect to certain areas to make them jump off the page
Flood coating - add a soft finish to the entire piece giving an even sheen and added depth
Metallic/pearlescent effect - add shine and elegance to text and objects
Watermark - add a layer of security and validation or run your logo across a page for subliminal repetition and recognition
For more information please come and see us or simply
email us with your postal address for a free brochure
Don't just find A solution... find the BEST solution!
"We have the experience and the tools to turn your vision in to reality. From concept, to artwork, to manufacture and installation... we are here to help you. Whether it be a personalised gift for a loved one or a huge business project, we will be committed to giving you the perfect result."
Look outside the square
and see the big picture
If you can't find what you need, please contact us and we will endeavour to accommodate your requirements.
For further information, for a quote or to place an order please email or phone (08) 9478 2611.